In our search for the next big thing, we often overlook some of the steady innovators who grow organically without millionaire investors or crushing debt loads.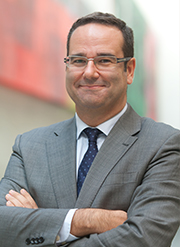 Alfonso Vara-Miguel of UNAV
One such example is
El Confidencial
of Spain (their slogan: "The preferred daily of influential readers").
This is a digital news publication whose
value proposition for 15 years
has been to offer quality news exclusives "that other media cover up or don't publish because of their overlapping political and business interests," according to researcher Alfonso Vara-Miguel, professor at the University of Navarra (in
Innovación y desarrollo de los cibermedios en España,
2016, Eunsa, Pamplona, pp. 166-77).
Spanish news consumers are more skeptical of their news media than most (more on that below), so this independent-spirited publication, with a philosophy of spending no more than it takes in, has racked up some impressive numbers:
advertising revenue exceeded US $9.9 million in 2014
after-tax profits were US $1.3 million in 2014
full-time staff numbered more than 100
it averaged 735,000 daily readers in August 2015 (ComScore)
The value proposition is exclusive journalism free of political and business influence.
Versión en español
In the
latest study
by Reuters Institute at Oxford University, El Confidencial ranked seventh among the media brands preferred by Spanish consumers. All of the six above them are part of large corporate media organizations.
Continuous innovation
Vara-Miguel attributes the ongoing success of this publication to continual innovation in the product, the organization (mainly the creation of a media laboratory for experimentation), and the processes of production and distribution.
That internal lab, which includes 20 people from various departments, has driven several redesigns of the site, the development of mobile apps for iOS and Android, the launch of a video production unit and channel, an in-house revamp of their content management system (CMS), and a new system for managing comments.
Jose Antonio Sanchez, editor and CEO of the digital daily, told Vara-Miguel that his aim was not to get a large number of users but rather to increase the number of "regulars", or users who come to the site every day.
In 2015, loyal users represented 70% of El Confidencial's total, Vara-Miguel reported, while the average for similar media was about 25%.
The importance of credibility
This model of exploiting a niche with exclusive news works best in sectors like finance, where the target audience has an intense interest in the trends in interest rates, stock prices, and currency exchange rates.
At the same time, El Confidencial aims to satisfy the public's thirst for news they can trust, and it is attempting to capitalize on the widespread lack of trust of big companies and the political parties they work to influence.

Samuel Negredo de UNAV
Again, the new Reuters Institute report offers relevant data. Samuel Negredo, a professor at the Universidad of Navarra and one of those entrusted to analyze the data, reported that of the 24 countries in the study, Spain ranked fourth among those whose audiences believed that their country's media are subject to undue government and political influence.
Spain ranked fifth among those countries whose media consumers detect economic and commercial influence on the news.
In this context of distrust, a publication that can demonstrate its independence has a distinct competitive advantage. It also helps explain the remarkable success of
Eldiario.es
, another digital news startup that
promotes itself
as a trusted source of independent news.
Vara-Miguel ends his analysis of El Confidencial on a skeptical note. He points out that the publication has made several attempts to grow its audience with sections dedicated to more-popular topics such as culture, health, sexuality and education, among many others. If it continues down that road, he suggested, it might risk losing the differentiating quality that made it successful in the first place.

Related:
12 road maps for digital media success around the world
Univision looks beyond the U.S. to capture 500 million Spanish speakers
14,000 friends lay out the cash for aggressive journalism
Panama Papers: Lone-wolf investigative journalists form a pack